Lake Country Property Owners Association
The Lake Country Property Owners Association, Inc. (LCPOA) is a voluntary organization. The Association started in the mid 1970's (1976 as best we can determine) as a properties owners group which did not include the developers. George Ireland was the first President of the Association.  To view LCPOA By-Laws click here.
The LCPOA received its Texas State Charter on May 21, 1984 and became the Lake Country Property Owners Association Inc. and is the dedicator to Lake Country Estates & Lake Country Secret Harbor.
The Charter members are Joyce Norris, Randy Mosley, and Dianne Schafer. The members of the first Board of Directors were Aimee Krause, Kimberlee Long, Joan Polinsky, Henry J. Stocker, John Petelin, Randy Mosley, Joyce Norris, and Dianne Schafer.
(From the Charter) – The purposes for which the corporation is organized are:
This corporation shall be for the purpose of promoting the civic community welfare and pride among the residents and non-resident property owners of Lake Country Estates, an addition to Tarrant County, Texas; conducive to good planning and sustaining property values, of securing desirable improvements and benefits for the addition and to foster and assist in the general civic and social enterprises and activities which may be beneficial to the community.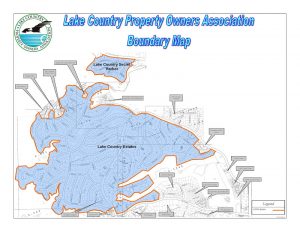 (Click image to enlarge & print)
About Lake Country Estates Owners Association
The Lake Country Estates Owners Association (LCEOA) is the predecessor to the LCPOA and was a mandatory association. The LCEOA received its Texas State Charter on August 31, 1971 and forfeited it on February 21, 1983.
The Original Lake Country Estates Developers
Who built Lake Country? The original developers are Patricia Craus, Joe Ann Shelton, Loeen Bushman, Jeanette Cogdill Baker and they formed Lake Country Estates Inc. in 1971.
Original Sales Map                                               Original Lake Country Concept Map
History in Pictures of Lake Country
(From the Lake Country Sales Brochure)  – "Lake Country Estates welcomes you and your family to the good life that comes with lakeside living. Located just 20 minutes north from Ft. Worth's city center, 1800 acre Lake Country Estates offers resort living a "world apart" from the hustle and bustle of the crowded city. Families can enjoy golf, tennis, fishing, swimming, and horseback riding just minutes from their door. Since Lake Country is close to major arteries, residents are "freeway fast" to all points of the compass. And, when it comes to housing, property owner's benefit from a concept rarely utilized in residential development… the practice of planning each home on an individual basis. Close to 500 homeowners in the $50,000 to $200,000 price range can demonstrate that no two homes are completely alike. With a church and convenience shopping center onsite, and a first class school system next door, Lake Country Estates offers everything home owners desire in the way of healthy outdoor recreation, nearby facilities, and the biggest benefit of all, friendly neighbors of similar interests and tastes."
About Lake Country Estates Greenbelts
One of the amenities that makes Lake Country Estates a special place to live is the Greenbelt Park, which consists of six areas, including a boat launch, playground and tennis courts. Residents can obtain keys for access to the tennis courts and waterfront park pavilion when they join to become a member of LCPOA. These greenbelts are shown on the accompanying map.  The Greenbelt Park is owned by the LCPOA and is maintained by volunteers (especially adjoining neighbors), who mow and pick up trash or tree limbs. 
All LCPOA members may walk or otherwise utilize the greenbelts during the daylight hours, but please remember to pick up after yourself and pets.  Additional rules can be found by clicking Rules of Use for Greenbelts
All who utilize or live along the greenbelts are encouraged to help with greenbelt maintenance.  If you would like to volunteer to mow or maintain a section on a regular basis, or if you have any questions or concerns about the greenbelts, please contact the LCPOA Administrative Assistant at adminasst@elcpoa.org
Click to view LCPOA Greenbelts Map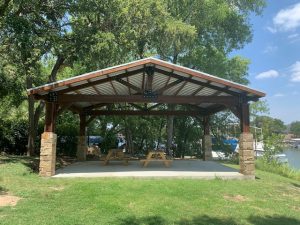 Waterfront Park Pavilion

Greenbelt 11 Tennis/Basketball Courts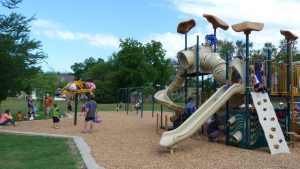 Greenbelt 11 Playground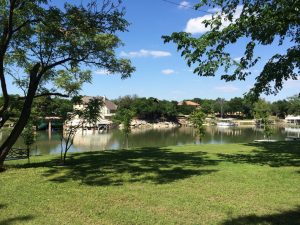 Waterfront Park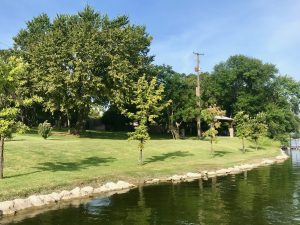 Waterfront Park view from docks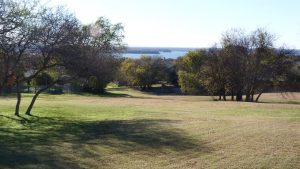 LCPOA maintains 15 acres of greenbelts and parks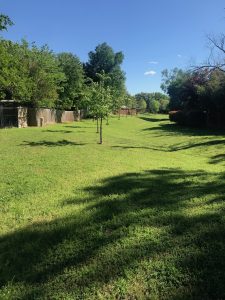 Greenbelt 11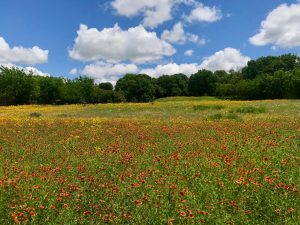 Wildflowers in April Greenbelt 7
Lake Country Property Owners Association, Inc. is an organization for promoting the community welfare and pride among the resident property owners of Lake Country Estates and Secret Harbor.
LCPOA Board of Directors meets the first Thursday of each month starting at 7:00PM at the Fullness in Christ Church Community Center located at 8895 Random Road.