November 2021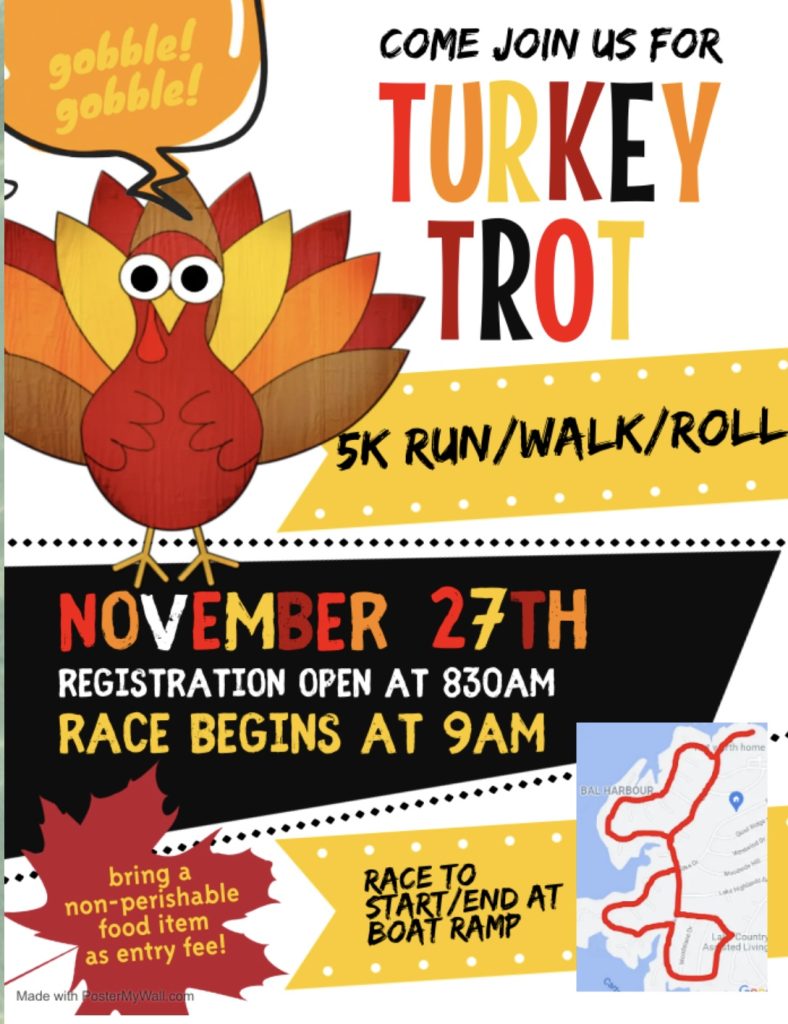 Calling all runners – serious or casual!!!  Join LCPOA on Saturday, November 27th to help burn off a few of the extra calories you might consume on Thanksgiving.  See flyer for more details!
October 2021
We're crazy and we're kooky
Mysterious and spooky
We're all together ooky
The Lake Country family!
Our houses are like a museum
When people come to see 'em
They really are a screamin'
The Lake Country family!
Join in the fun and decorate your house (outside) for Halloween!  Is your's the scariest?  Is it the witchest?  Maybe it's horrific!  We can't wait to see it!
Although trick-or-treating will continue in our normal tradition on Sun., October 31st, the LCPOA Events Committee will be riding around the neighborhood to judge the best Halloween decorations on Sat., October 30th from 8pm-9pm!
The prizes will go to 1. SCARIEST and 2. MOST INTERACTIVE decorations! Drop your address on the LCPOA Facebook page to register your house in the contest!
Let the scary times roll!!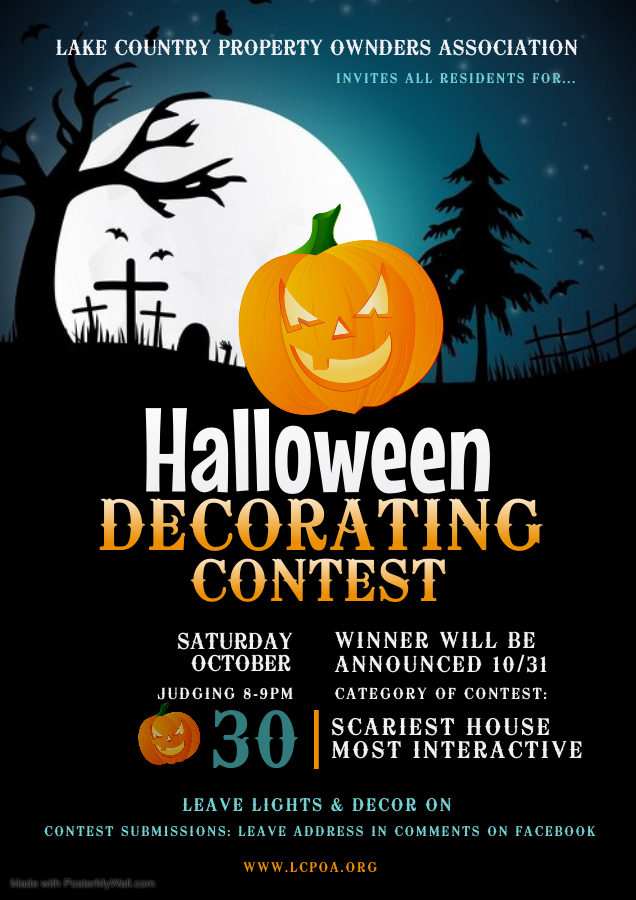 October 2021
It's Time for Our Annual Chili Cook-Off and Cowboy's Football Game at Waterfront Park!
We are also adding a Kids' Bake-Off this year! Bring your chairs and appetites and join us Sunday, October 17th @ 1:00 p.m. for a great time with the best neighbors in Texas!
August 23, 2021
It's A Back To School Glow In The Dark Dance Party!!  
When & Where: Saturday, September 4th @ 7:00 p.m. (Greenbelt 11 Playground Park)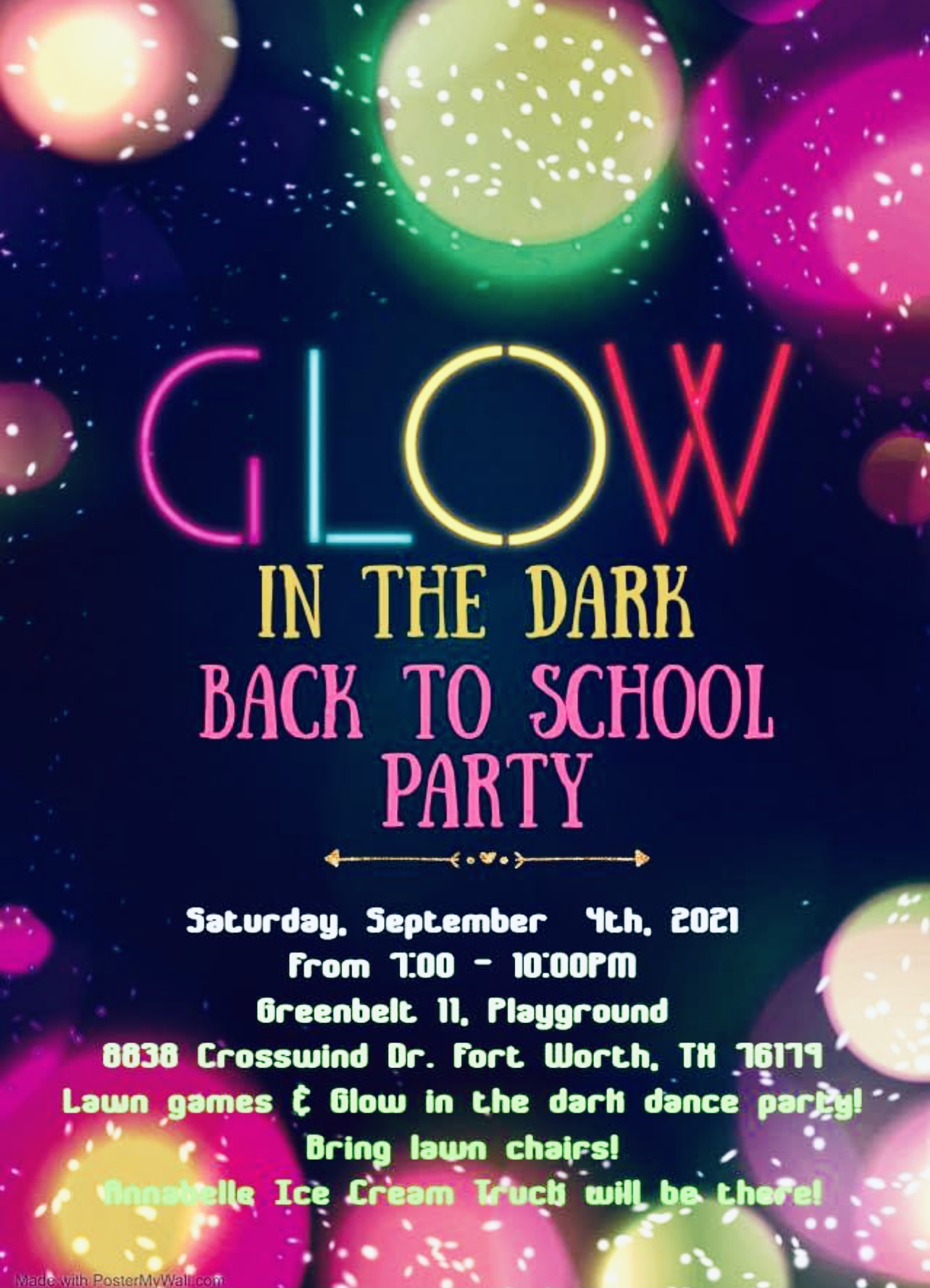 June 17, 2021
Get your Lawn Chairs, Find a Good Spot and Enjoy a Lake Country Tradition!
The Lake Country Independence Day Parade will wind its way through the streets of Lake Country Estates starting at the Lake Country Christian School parking lot (by LCCS blue roof tops) down to LCPOA Waterfront Park and Boat Launch.
If you want to be in the parade (no signup necessary), come to the Lake Country Christian School parking lot at 9:30 a.m. Bring your best floats for show such as cars, trucks, motorcycles, golf carts, tractors, 4 wheelers etc…
Note: All vehicles must be able to maintain a minimum speed of 10 mph for the entire parade route.  
The Parade Starts at 10 a.m. Sharp!   (click here for parade map)
All Free and Courtesy of the Lake Country Property Owners Association
Not a Member Yet? Click here to join now! 
For your safety, we ask you to not enter the street during the parade.
June 16, 2021
Come and Enjoy the Independence Day Parade Picnic @ Waterfront Park!  
When: Sunday, July 4th (immediately following the parade)
At Waterfront Park, we will be serving Hot Dogs, Watermelon and Water. There will be two inflated slip-and-slides at the park for the kids!   Swimsuits recommended.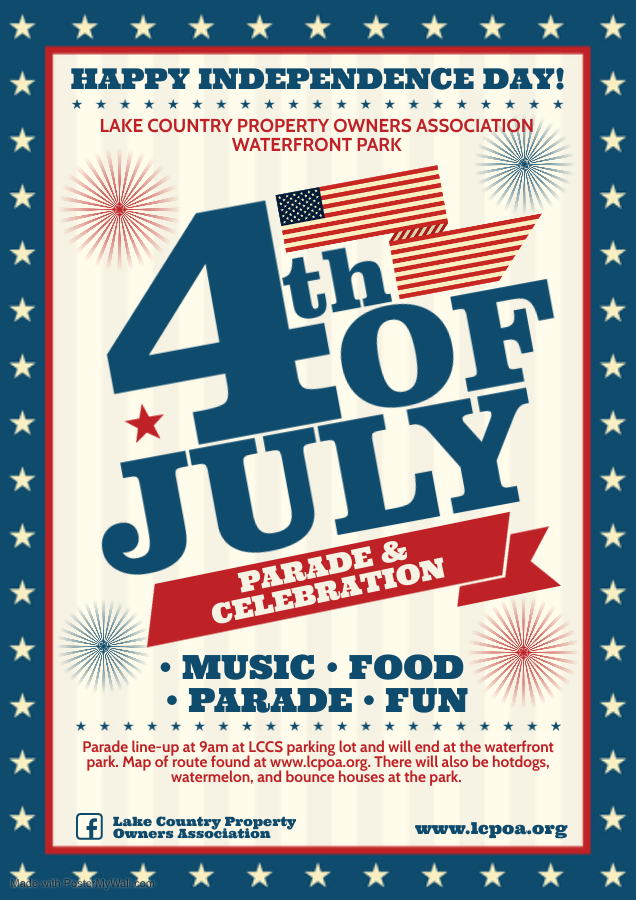 April 7, 2021
It's an Ice Cream Social! 
Come & Enjoy Annabel's Ice Cream Truck, family fun and meet the new Lake Country Elementary School Principal, Anke Bracey.
When:  Thursday, May 13th
Time: 6:00 p.m. – 8:00 p.m.
Where:  Greenbelt 11 Playground (click here for map)
(Note: Ice Cream truck will accept cash and debit cards)
Hope to see you there!!
April 6, 2021
Spring Garage Sale will be held throughout the neighborhoods on Friday, April 16th and Saturday, April 17th. 
This is a great chance to clean out the garage/attic and sell those items that are ready for new owners!  Please remember there are no permits needed through the City of Fort Worth to have garage sales so you don't need to worry about all of that.  LCPOA will be putting an ad in the Fort Worth Star Telegram on behalf of our membership.
March 14, 2021
Please join us for the annual Folksmarch – Saturday, March 20th @ 10:00 a.m.
The Folksmarch will be held on March 20th @ 10:00 a.m. (weather permitting).  The main purpose is to provide a fun way to introduce you to our Greenbelt Parks system by walking every greenbelt and connecting streets.  The entire distance is about 4 miles (7 K), which should take about an hour and a half to walk, but it is possible to take short cuts and avoid hill climbs.  The event will start and end at the LCPOA Waterfront Park.
Thank you again for supporting the LCPOA!  If you haven't joined or renewed your membership in 2021, please join now by clicking here.
Click here to view map of the Folksmarch.
Please join us for the 14th annual LCPOA Easter Egg Hunt – Friday, April 2nd @ 10:00 a.m.
It's that time again! Come to the Playground Park entrance by 8836 Crosswind Drive and join in on the fun. Bring your camera for pictures with the Easter Bunny. We will have over 5000 eggs this year for the kids to find. This event is for ages 10 and under please – we will have age groups separated to ensure everyone gets their fair share. This event is brought to you by the Events Committee and is only possible due to our membership and donations – if you haven't joined yet please do so by clicking here.
Thank you for your participation in our events and supporting our community.
February 22, 2021
LCPOA Annual General Meeting – Thursday February 25th @ 6:30 (Registration starts at 6:00)
Location – Fullness in Christ Church (8895 Random Rd) or via Zoom by clicking the link below:
CLICK HERE TO JOIN ZOOM MEETING
Meeting ID: 757 8825 4465
Passcode: 0PtN3k
**Note: Voting will only take place in person.  (LCPOA will be providing plenty of space for social distancing)
Come join your neighbors at the LCPOA Annual General Meeting to hear updates on the association and the wonderful neighborhood we live in.  Both members and associate members will be admitted.  Don't worry if you still need to join for 2021 – we will be providing kiosks to sign up during the reception.  If you want to join now simply click here.
Look forward to seeing everyone!
LCPOA Communications
November 16, 2020
The 2020 Eagle Mountain Lake Parade of Lights will be held Saturday, November 28th (click for details)
November 2, 2020
The annual LCPOA Tailgate Party will be held Nov. 8th at the Waterfront Part @ 3 PM (click for details)
Enjoy the following Food Trucks at the event:
Chica's Tacos
$12 Per Plate (non-members)
Option #1
Chopped BBQ Beef Sandwich with Mac n Cheese…Bbq baked beans and potato salad
Option #2
3 BBQ Pulled Pork sliders with Mac N Cheese BBQ baked beans and potato salad
Option #3
Sliced Brisket with mac.n cheese BBQ baked beans and potato salad
Elote is $4 Brisket
Nachos $8
Garnishments on the side: pickles – onions and ojalepenos
Blackberry Winter Creamery Ice Cream Truck
Single scoop $3.50
Double scoop $4.00
(Pricing applicable to non-members)
October 12, 2020
To commemorate the opening of the Prentiss Road connecting Lake Country with Eagle Ranch, the Folksmarch (walk/run) will be held on Saturday, November 7th @ 10:00 a.m.
The Folksmarch will follow a circular route which people can join wherever they desire:
Lake Country folks may start near the intersection of Lake Country and Golf Club, proceed to Eagle Ranch Blvd., and go east to the ER Park, where folks from ER may join the walk.
From ER Park, go east up to Rocky Ford, turn left and go to the end of that court, then exit on a concrete walk that leads to the old golf cart path.
Go down the golf cart path to where a left fork crosses the creek and connects with a path at the lower end of the ER disc golf course, thence along the lower end of the disc golf course to where a path forks to the right and crosses back across the creek to the lower golf cart path.
Follow the golf cart path to where it goes past a vacant lot on Gleneagles Way, which allows access to that street and then go left down to Golf Club Drive and back to the beginning on Lake Country Drive for LC folks, while ER folks will walk on up Prentiss Rd. and ER Blvd. to ER Park.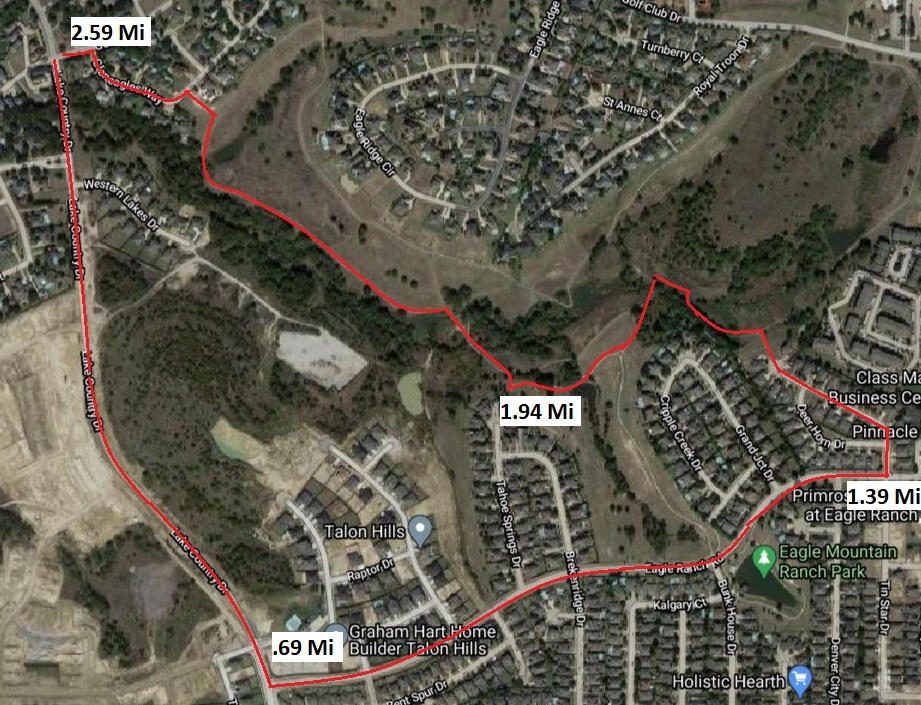 September 17, 2020
We have announced a community wide garage sale weekend coming up on Oct. 2nd and 3rd.  Please note that it is the responsibility of each home owner to ensure proper compliance with local regulations and CDC guidelines while having your garage sale.  Permits are no longer required in Fort Worth.
June 17, 2020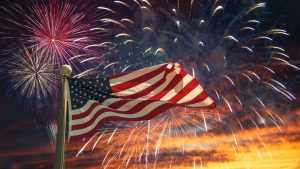 NOTICE: 2020 Independence Day Parade and Celebration is On!
Date/Time – Saturday, July 4th, 2020 @ 10am (Lineup will be at 9:30am)
Your LCPOA Board of Directors has decided that we WILL be having our most cherished annual event – our Independence Day Parade.  We, unfortunately, will not be able to have our picnic celebration at the end of the parade due to current local restrictions and the need for continued social distancing.
June 6, 2020
Your LCPOA Board of Directors is monitoring the Coronavirus (COVID-19) status closely to ensure all of our events are safe for our wonderful members and visitors.  Unfortunately due to CDC, State and Local guidelines and executive orders – the Events Committee has had to cancel many previous events to remain compliant. As of Thursday June 4th, the Board of Directors decided that we would be having the Annual LCPOA Independence Day Parade but will not be able to have the picnic at the end due to social distancing requirements.  We are hoping to be able to continue to ease restrictions throughout the end of the year as Local Authorities continue to allow for more changes.
Please be sure to continue to check here for more updates such as the parade rules, guidelines and route map along with further news on upcoming events.
Sincerely,
LCPOA Events Committee