A new event, called a Folksmarch, was announced at the Annual Meeting that should be fun for the entire neighborhood. Weather permitting, it will be held on March 21st beginning at 10:00 a.m. The main purpose is to provide a fun way to introduce folks to our Greenbelt Park system by walking every greenbelt and connecting streets. The entire distance is about 4 miles (7 K), which should take about an hour and a half to walk, but it is possible to take short cuts and avoid hill climbs. The event will start and end at the LCPOA Waterfront Park – as seen on the map below. Those who participate will be able to purchase a souvenir patch for $3. Below is the full route map of the Folksmarch: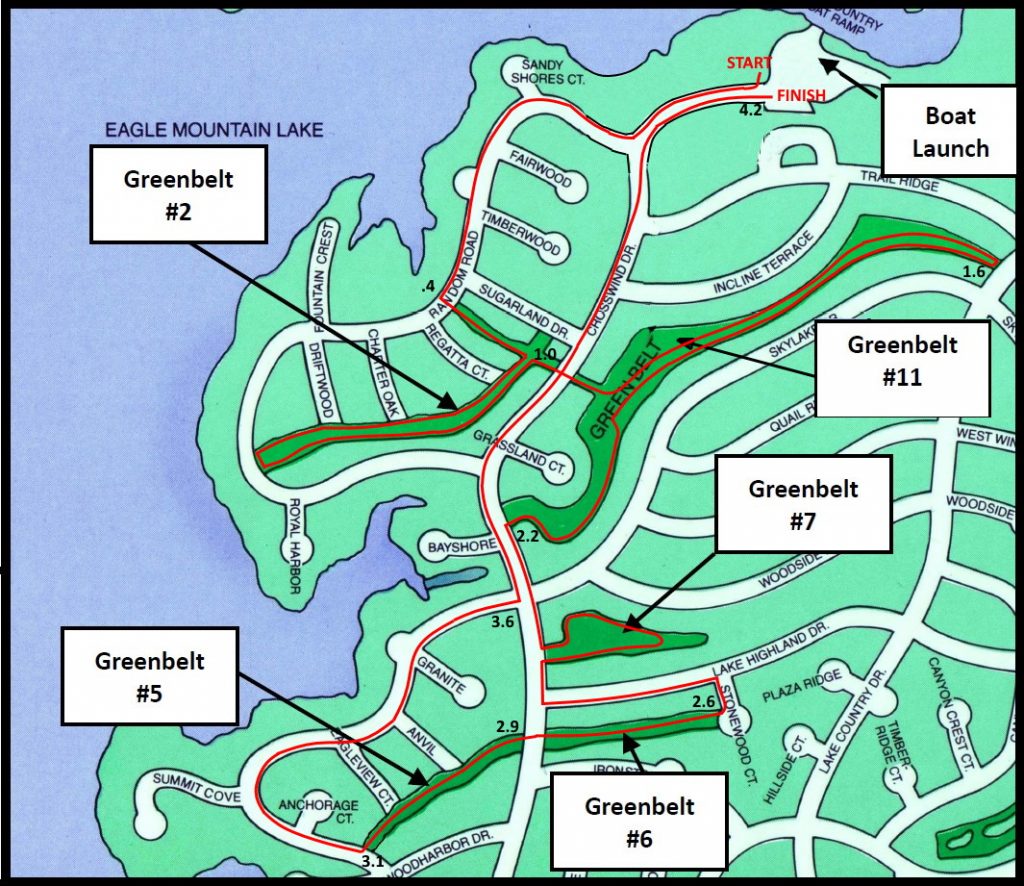 Folksmarch Format & Rules:
Walk (jog?) at your own risk and at your own pace.
On streets walk single file on the left side facing traffic when possible.
This event is open to adult or teenage residents of Lake Country Estates and to children with parents.
Hiking boots or walking shoes for "off-road" terrain are recommended.
Items to wear or bring might include: a hat or cap, sunglasses, water, and a walking stick.
Dogs (except "seeing-eye") will be too problematic and thus not allowed for this event.
If you have a pedometer or cell phone app and walk the entire prescribed route, please report the results for averaging in order for us to determine the distance most accurately.
Possible short cuts: A. At the Shady-Sidewalk street crossing, take Crosswind back to GB 14.
B. On GB 11 take the path down across the bridge instead of going up past the courts.
C. At GB 7, continue to the Electrical Entrance, skipping the perimeter walk and the hill climb.
Call for assistance if needed. (A golf cart ride back to the beginning will be available if someone completely poops out.)
NOTICE: Because the Folksmarch involves only walking in an extended line with no close interaction between walkers necessary, the event should have no elevated risk of transmitting or catching the Coronavirus and will be held as scheduled.